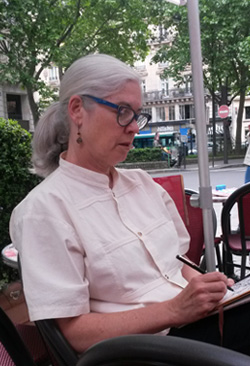 Patricia will be your advocate for a beautiful, lovingly-inhabited home.   To better understand her clients, Pat has developed a unique workbook to help delineate dreams as well as pragmatic needs.   She will be with you from preliminary sketches though construction administration.
Patricia is also a painter, and her abstract landscapes are in collections in the United States and Europe.  As an artist, she integrates art into architecture at every turn.  Thoughtfully collaborating with her clients, Pat designs sculptural spaces with  color and light  throughout her projects.
Assisting Patricia is a highly qualified team of engineers, landscape architects, and builders.  The resulting service is personal as well as professional.
Data:
1974    B.A. Fine Arts & English, University of Colorado
1977    M.A. English, University of Washington
1981    Master of Architecture, University of Washington
1983   Licensed to practice Architecture, State of WA
Taught architecture in England, France, Japan, India, and University of WA
Patricia K. Emmons is a member of the following organizations:
• American Institute of Architects
• Congress of Residential Architects
• Northwest EcoBuilding Guild
• National Trust for Historic Preservation
• UW Architecture Professionals
Advisory Council